What Does a Digital Analyst Do?
March 3, 2020 •DJ Team
In today's world, we hear a lot about digital "this" and technological "that", and there are obvious job opportunities related to the internet. But what exactly do these roles entail? What are the people who hold digital titles actually doing? Let's take a moment to understand the people who perform digital analytics tasks, also known as digital analysts.
The Meaning of Digital Analyst
Digital analysts are people who are tasked with making sure reports, analyses, and dashboards accurately reflect vital information about their companies' digital assets. They often use customer relationship management (CRM) software and robust intelligence tools during their data analysis work. This kind of position involves an examination of both qualitative and quantitative properties, with the ultimate goal being to give customers an optimal digital experience. Both before and after they ever visit your website.
Digital marketing analysts work with heavy amounts of data. They're primarily tasked with examining competitors' strengths and weaknesses and using that data in ways that leverage their own brands' positions.
A typical digital analyst job description will require candidates to have a thorough understanding of search engine optimization (SEO) and social media marketing strategies. This role typically requires people to be comfortable with keyword research, large amounts of data, and various analytics tools.
What Are Digital Analytics Tools?
Digital analytics tools are those that collect and measure data from several digital channels, including social media sites, websites, and emails. DemandJump is one of those tools. Our platform measures how marketing strategies perform using centralized data. Setup is easy, and the data from all channels you want to watch are in one place. Our tool allows you to save time and improve return on investment.
Digital Analyst Roles and Responsibilities
Digital analysts typically assist marketing teams by analyzing various marketing initiatives. They also help transform how their marketing teams look at data by reinforcing the importance of making strategic, numbers-driven decisions for future campaigns. Because digital analysts work closely with marketing, sales, and various other groups within their organizations, they must be able to liaise between groups fluidly while helping engage the organization in data literacy. This type of role typically requires:
The ability to translate complex data into easy-to-understand information
A fundamental understanding of digital marketing programs and technologies
Ability to communicate across various levels of an organization
Ability to develop, audit, and test campaigns in ways that optimize key performance indicators (KPIs)
Digital Analyst vs. Data Analyst
The term "data analyst" is a general phrase given to anyone who performs data analysis. Digital analysts are a certain type of data analyst; they specifically work with the data related to an organization's digital media. Digital analysts usually analyze information that comes from online advertising, social media, Google Ads, and the like.
Digital analysts analyze and interpret the data given to them through various tools that track traffic, leads, conversions, and other vital metrics, with analytics being information provided by the various tools and data analysis being the process by which this information is scrubbed, examined, and presented to stakeholders.
Web Analyst
Digital analysts are not to be mistaken for web analysts. While both are types of data analysts, web analysts are more focused on creating procedures for data management, data analysis, web projects, data integrity, and web server security. Whereas digital analysts tend to work with marketing teams, web analysts are usually found working with development teams.
According to Glassdoor, the average annual web analyst salary is $69,375, with more experienced professionals, or those in cities with higher costs of living making upwards of $144,000 or more. The typical web analyst resume will generally reflect exposure to a number of analytics tools, including Adobe Analytics, Google Analytics, Coremetrics, and others. Web analyst education requirements typically necessitate a degree in a business-related field such as statistics, finance, or another quantitative field.
Web Analyst Related Careers
If you're considering pursuing a web analyst career, but you're not sure it's exactly the right option for you, you might want to look into a few other paths. Web developers are closely related to web analysts, as are general data analysts, business analysts, and marketing analysts.
How to Become a Digital Data Analyst
Naturally, each digital marketing analyst qualification list is going to be a little different, but generally, companies are looking for candidates who have a background in data and numbers with at least an undergraduate degree in finance, statistics, logistics, or math. A successful digital analyst resume will reflect this education, as well as experience with multiple analytics tools, apps, and software.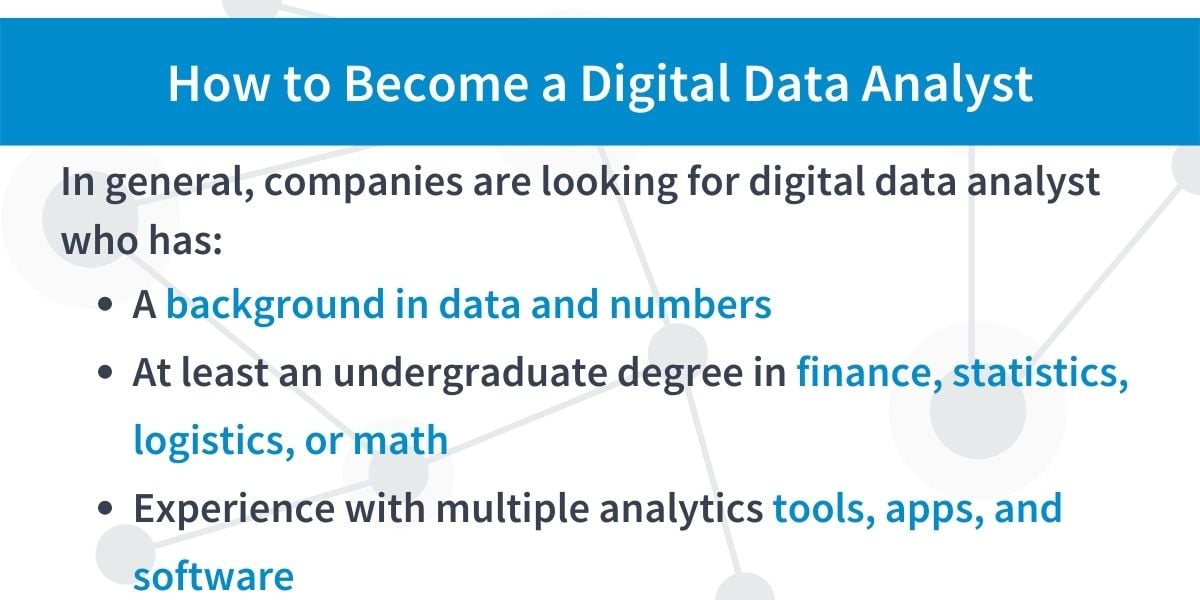 Digital Analytics Research Analyst
A marketing analyst is a type of data analyst. In this role, a person will examine the greater landscape of his or her industry, checking in on what competitors are doing to ensure their brand holds the best position possible. A market research analyst studies market conditions to determine when and where potential sales might be possible. This person helps his or her company understand what products and services people want, who's most likely to buy them, and how much they'll be willing to pay.
A marketing analyst career path should include a well-rounded education of both qualitative marketing principles and quantitative courses in math and finance. The typical marketing analyst job works with many different departments within an organization but is mostly tasked with marketing-related objectives.
Digital Analyst Interview Questions and Answers
Like any job scenario, when it comes to analytics interview questions, you want to be as prepared as possible so you can showcase your strengths to the person on the other side of the table. Below are some questions you might be asked in an interview and what to consider when answering.
Q: What are your experiences in giving presentations?
A: Be honest, but be sure to highlight the fact that you're able to work across many different departments and can present to various levels of organizations. The more experience you're able to talk about, the better.
Q: Can you tell me the details of your technical Google Analytics experience?
A: This type of question is designed to see how much you really know. If you're familiar with the ins and outs of Google Analytics, it will show in your answer.
Q: Can you describe your ideal client?
A: Be careful with this one because you want to keep your response positive. This is a great time to highlight one or two of the firm's existing clients and show that you've done your research.
Digital Analyst Salary
If you've been asking yourself, "Are there any digital analyst jobs near me?" chances are, there are probably quite a few. The question is, are they worthy of your talents and skills? According to Indeed.com, digital analysts make $75,784 annually on average. In Washington, DC, digital analysts make 16% higher than the national average, coming in at $87,738 annually. The highest paying city for this role is Fort Meade, MD, which pays, on average, $93,888 per year. This is 24% higher than the national average. Payscale.com estimates the average bonus for this type of professional ranges from $800 to $10,000 annually.
One step to becoming a better digital analyst is by using DemandJump. Create your account and try it out for free today!