What Does Digital Transformation Mean?
April 9, 2020 •DJ Team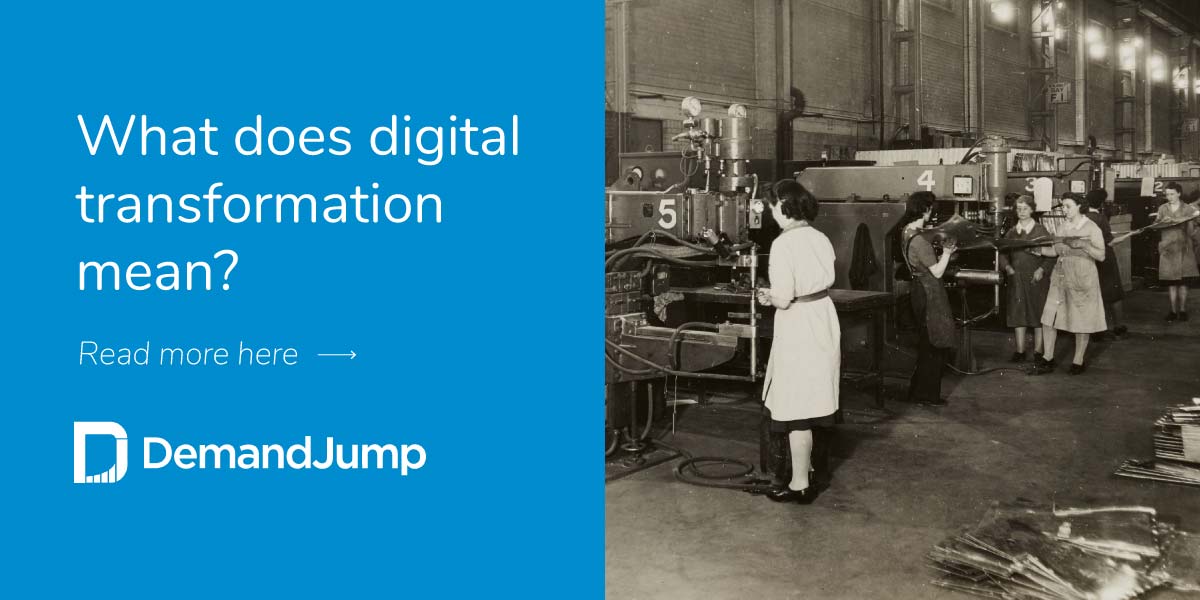 One of the current buzzwords in business is digital transformation. Here at DemandJump we believe wholeheartedly in the importance of digital transformation as a way of transitioning into the future of business.
But the truth is, many of our prospective customers are wondering what this term means. Is it just a marketing buzzword, or is there real, transformative meaning behind the phrase? We'll clear up the confusion in today's post.
Definition of Digital Transformation
Arriving at a digital transformation definition is trickier than you might expect because it looks different for every business. That said, every digital transformation journey tends to take a similar course.
Digital transformation is a journey from a legacy business operations to incorporating digital technologies into every department and lever of an organization. And because digital technology is constantly evolving, digital transformation is a necessary and ongoing process.
Put simply, it's proactively looking for the ways that technology can improve or even upend your traditional way of doing business. It's implementing those technology solutions and working them until they become a seamless part of your infrastructure. And it's constantly reevaluating those solutions and any new ones that have come along to ensure your business remains operating as effectively as possible.
Benefits of Digital Transformation
Why bother with digital transformation? There are many benefits. Chief among them? Survival.
Yes, really — survival.
Ask yourself: why are there so few 100-year-old companies today? What happened to those titans of American industry that loomed so large in the early 20th century? Most of their companies are no more.
In many cases, successful businesses grow to a point where they enjoy incumbent status. They are the default in their category. And after some period of time, they grow complacent or systematically slow to adopt change.
What's the point here? Your smaller, more agile competitors are embracing digital transformation. If you shrug it off because you're enjoying current success, you're in danger.
There are many positive benefits, as well. Depending on the nature of your business, the adoption of technology offers better customer relationship management through streamlined communication, more efficient means of reaching potential customers digitally, and leveraging the vast amount of data out there to make better strategic decisions.
There are challenges here as well, of course. Some digital solutions create disruption internally. You may gain new or more powerful functionality, but then something that "just worked" in the old system is now a little finicky. Many of these challenges prove solvable over time. But you can expect the skeptics to complain about these challenges as they are discovered. Work to fix them as quickly as possible.
Digital Transformation Strategy
Digital transformation isn't something you want to jump into without preparation. One of the keys to successful digital transformation is to create a clear strategy, or a digital transformation framework, to guide you as you work.

Your framework must be customized to meet the realities of your business. No one example will work for everyone. That said, we'll look at how one company organized their framework as a point of reference.
Cognizant's framework categorizes all digital transformation efforts under one of four framework segments:
Digitize the customer experience
Digitize products and services
Digitize operations
Digitize the organization itself
Each framework segment has three subcategories as well. They categorized all digital transformation efforts under these three subcategories:
Customer insight
Omni-channel
Digital marketing
So with this framework in place, potential initiatives that didn't fall into any of the four categories (or that didn't fall into a subcategory) were excluded. This framework gave a sense of understanding of where a particular transformation fit into the broader context of the organization, and it also served to keep project scope in check.
Examples of Digital Transformation
Looking for some digital transformation success stories? Hearing how it's worked well for others can help to allay fears and dispel disagreements in your own company.
We already looked a little at Cognizant's approach, but there are other successful digital transformation case studies to consider.
Apple's CarPlay is one specific example. Both Apple and auto manufacturers wanted to digitally transform the in-vehicle experience. In this case digital transformation required cross-industry collaboration. Apple offered technology that could accomplish the digital transformation, but it could not act alone. The automotive industry had to be willing to engage in digital transformation as well. Thankfully, they were.
Lego is another brand—one with very, very physical roots—that has engaged in successful digital transformation. It's not hard to see how a seemingly low-tech toy could have gotten left behind in the last couple decades. Lego saw the signs and adapted in time. In their case, digital transformation looked like truly transforming their product line. Physical lego sets gained current pop-culture tie-ins. Lego leveraged this cultural cachet into wildly successful video games and movies. And its connected block systems bridge the gap between physical and virtual play.
Read more on Lego's digital transformation via the World Economic Forum, where you'll find hundreds of other examples in their digital transformation articles.
While these examples discuss the digitalization of products, many digital transformations are occurring from within the company itself, such as incorporating new digital analytics tools into any department's operations. These analytics can help your marketing teams align to consumer behavior or even use AI to improveyour marketing channel performance with channel optimization.
Digital Transformation Tools
There are a host of digital transformation tools available that can help your business complete its digital transformation journey. The tools that you need will depend greatly on the nature of your organization and what your digital transformation actually entails.
Most businesses are already using an office suite from Microsoft or Google, but they aren't leveraging the powerful new tools available to them. Microsoft Teams is an awesome collaboration tool that would help many businesses transform their communication and collaborative processes.
Many businesses benefit from some of the tools that DemandJump has to offer, like these:
Consumer Insights: find out what your target market is searching for with ease.
Market Intelligence: you can gain insight on what your competitors are doing well and how you measure up.
Cross-channel Analytics: in legacy models and processes, understanding the path to purchase requires stitching together data from many places. With DemandJump tools you can see the entire path at once, automatically.
Want to learn more? Start a free trial today. Or get a free consumer insights report here.

With DemandJump's Consumer Insight's Product, gathering data on what your target audience cares about is as easy as typing in a couple words that describes your business - making it easier than ever to incorporate digital data into your company's marketing strategy.
Get Your Free Pillar Strategy Preview!