How to Create a Digital Marketing Strategy
April 9, 2020 •DJ Team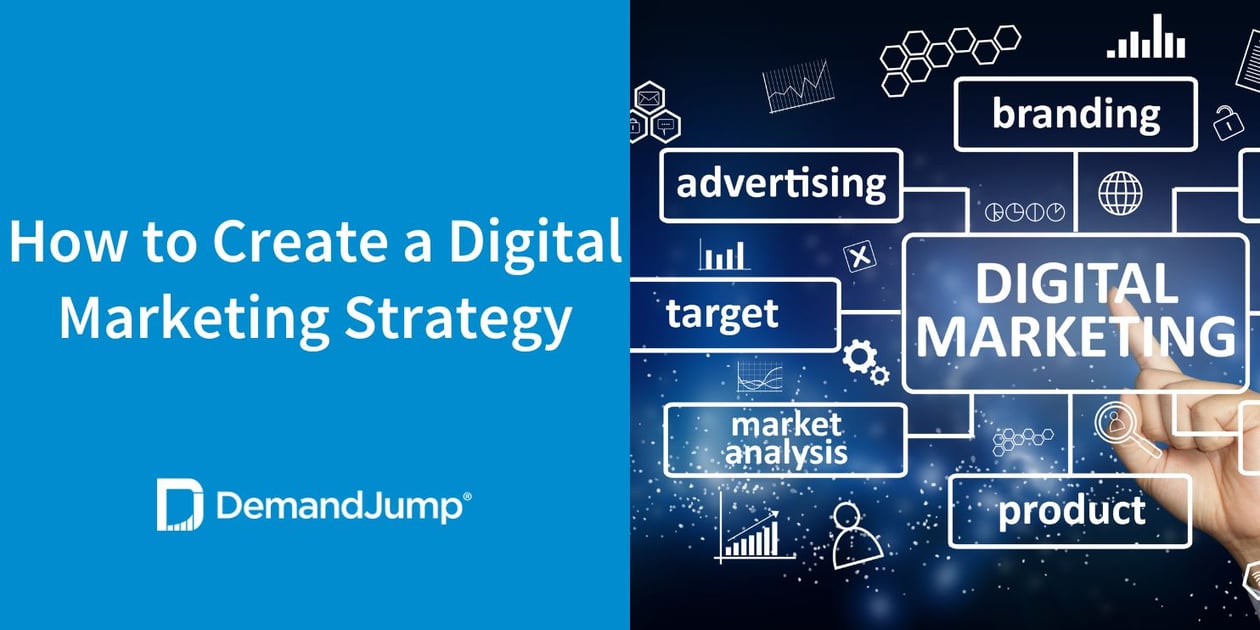 What Is Digital Marketing?
Any beginners guide to digital marketing strategies should first define what this term refers to. A simple digital marketing definition would mention marketing that uses the internet, internet-enabled devices, and various online platforms to reach potential customers content and advertisements. More specifically, a digital marketing campaign generally refers to a coordinated effort that will help support the larger strategy these campaigns could be focused on one digital channel specifically or engage multiple marketing channels, such as social media, display advertising, or search marketing, with a cross-channel campaign.
Think of a digital marketing strategy as a coordinated series of actions you plan to achieve overall business goals. In contrast, picture a digital marketing campaign as a set of actions within that series.
Why Is Digital Marketing Important for Business?
These days, increasing numbers of potential customers turn to the internet when they need to research and compare products or services. In fact, the majority of the buyer journey now takes place digitally. So if you're not meeting customers here, you're missing them. In this light, the opportunities of internet marketing are endless - as they benefit your business with a cost-effective way to reach a large audience. Still, you need to make certain you enjoy good returns upon your digital marketing investment. That's exactly you first need to develop an informed strategy to support your goals.
What Are Digital Marketing Strategies?
Think of your digital marketing strategy as a plan you will use to reach your business goals. It's based on the ways you've come to understand how your target audience prefers to be reached out to, what their motivations are, and how they buy. Once you've done the research, potentially consulting your market intelligence tools first, it's critical to develop a digital marketing plan because it will force you to first ensure you've identified those goals. You'll also need to determine objective measurements of success and of course, the actions that you will take to achieve your goals.
Before you get started, you should understand that you might employ several types of actions to complete your strategy and sometimes, even to complete a campaign or phase in the plan. These are common types of digital marketing strategies that you may include in your overall plan:
Paid and organic search engine marketing
Social media, influencer, and content marketing
Email and mobile text message marketing
Affiliate marketing
You shouldn't think of your marketing strategy as a one-step deal. If that was true, marketing plans could be much shorter. Most customers go through a process before they decide to spend their money on a new company, product, or service. You will often hear marketers refer to that process as the customer journey. They take steps from the time they first learn about your company until the day they buy something.
As a relatively simple example:
You may build an audience on social media, so people learn about your brand.
Some of these prospects might search for you to find out more about your company.
At this point, you could have interested some people enough to get them to sign up for your email list.
Eventually, you may hope to coax them to your website to make a purchase.
After that, you will need to provide great customer service and transform these first-time buyers into your loyal customers.
Basic steps in this customer journey generally include awareness, consideration, decision, retention, and advocacy. When you first introduce people to your company, you generate awareness. When your audience takes a step to learn more, you've begun to establish consideration. Encouraging these prospects to take an action to form a relationship with your company, like signing up for your newsletter, helps to facilitate the decision process as it exposes consumers to more of your helpful content. Finally, you retain customers and turn them into advocates by making them successful and so happy with your product or service that they want to share it with others.
This journey should form the basis of your overall strategy, and you can lay it out graphically, so it's almost like a map by creating a digital marketing strategy template.
Creating Your Digital Marketing Strategy Framework
So, how do you create your digital marketing action plan? To simplify the process, you could refer to the simple, clear steps laid out by the Hootsuite blog:
Set goals and determine meaningful metrics to measure progress towards those goals.
Learn as much as possible about your intended audience by creating buyer personas and gathering actionable information.
Learn as much as possible out of your competitors by conducting competitive analysis and social listening.
Evaluate and complete your online platform, such as various accounts, such as social and marketing platforms.
Draw inspiration about your own competitive advantage and those things your competitors or other businesses do well.
Create a schedule and collaboration tools.
Test, evaluate, and refine your campaigns and strategy by using your metrics to determine what's working and what could work better.
Examples of Effective Digital Marketing Strategies
In the last section, you were encouraged to draw inspiration from both your own company's distinct qualities and other company's efforts. To help you get started, consider some examples of top digital marketing strategies that you may already know something about.
GoPro
If you've watched your share of online videos on YouTube, Instagram, and other sites, you probably already recognize that distinct look of GoPro videos. You're also probably aware of this because a large part of the company's digital marketing strategy consisted of encouraging customers to upload their own user-generated content to social sites and to tag GoPro when they did.
Geico
If you had the Jeopardy answer, "This insurance company can save you 15% on your auto insurance," you'd know the question, "Who is Geico?" Credit a lot of that to the short, amusing ads that that company runs before lots of YouTube videos.
Red Bull
This company makes energy drinks. One of their strategies to raise awareness of their drinks doesn't focus upon the product but upon extreme sports. In this case, they've decided that it's better to introduce themselves to customers by promoting the lifestyle of customers more than the drink itself.
Digital Marketing Strategy Tools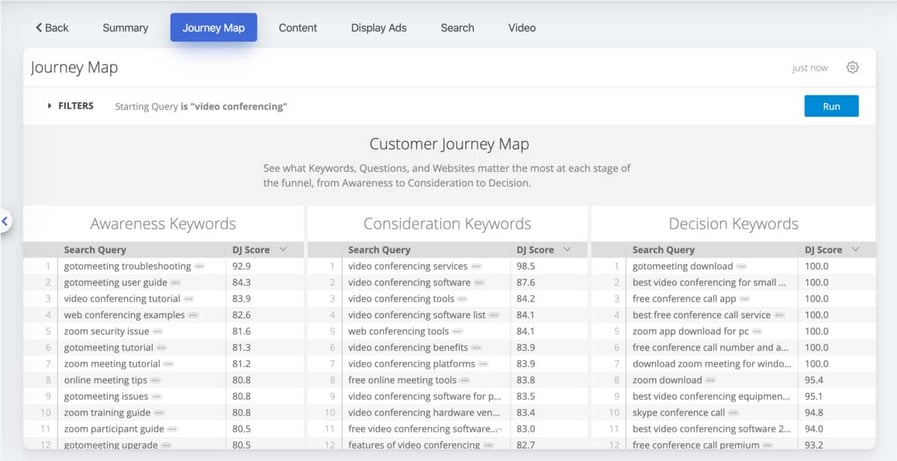 When you're planning your digital marketing strategy, you can benefit from many high-quality digital marketing strategy tools.
In today's data-driven world, real-time consumer behavior should be at the center of your marketing strategy. You'll see in the image above that tools like DemandJump can highlight the questions and searches consumers are asking at each stage of the buyer journey. This data is instrumental to a myriad of digital marketing strategies. It helps to inform the paid search campaigns you create, the language you use on your display and social media ads, and the content you write for each stage of the buyer journey.
Get a free report like this around any topic or phrase related to your business here.
DemandJump offers a full suite of strategy and channel optimization tools to serve any business, from the enterprise to small businesses to marketing agencies. The tools assist with a number of different aspects of your marketing strategy, including marketing management, content and social marketing, advertising, and analytics. Even better, you can start your free trial right now.
Inform Your Digital Marketing Strategy
We can provide you with the right tools to enhance every aspect of your digital marketing action plan, including analytics, market intelligence, and even programmatic advertising. We can also help you uncover the true online customer journey to inform your digital marketing strategy.
If you'd like help optimizing your marketing strategies, reach out to DemandJump! We're always happy to help.
Get Your Free Pillar Strategy Preview!